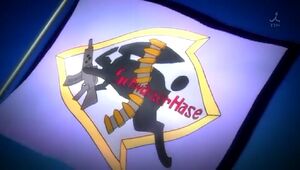 Schwarzer Hase (roughly translated from German as The Black Rabbit) is a German military organization commanded by Laura Bodewig. So far all the personnel that were shown are all women with eye patches on their left eye.
FacilitiesEdit
All the women wear dark office clothing with a black tie, with an eye patch covering their left eyes.
Known PersonnelEdit
Ad blocker interference detected!
Wikia is a free-to-use site that makes money from advertising. We have a modified experience for viewers using ad blockers

Wikia is not accessible if you've made further modifications. Remove the custom ad blocker rule(s) and the page will load as expected.