Infinite Stratos
began as a light novel series written by Izuru Yumizuru, with illustrations provided by Okiura. The first volume was published by Media Factory under their MF Bunko J label on May 31, 2009. As of December 25, 2010, six volumes have been released. The sixth volume was released on December 24, 2010. The first three volumes have been covered by the anime.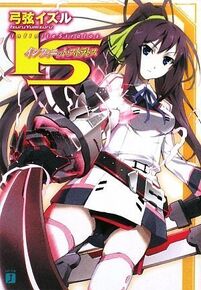 The light novels are being translated into traditional Chinese and the first volume was published and released by Sharp Point Press on November 9, 2010. The Chinese translations of the light novels were originally under an indefinite suspension. Yumizuru cited that Media Factory's overseas representatives were engaging in contracts with foreign publishers without the author's permission as the reason for the suspension. Yumizuru had also stated that he was willing to fight over this matter in court if necessary. 
The 8th Volume of the light novel is schduled for release on April 25th 2013, stated on the IS twitter https://twitter.com/is_anime.
Volume ListEdit
| | | | |
| --- | --- | --- | --- |
| No | Front Cover | Names | Release date |
| 1 | | | May 25, 2009 |
| 2 | | | August 25, 2009 |
| 3 | | | December 25, 2009 |
| 4 | | | March 25, 2010 |
| 5 | | | June 25, 2010 |
| 6 | | | December 24, 2010 |
| 7 | | | April 8, 2011 |
| 8 | | | April 25, 2013 |
| 9 | | | April 25, 2014 |
| 10 | | | July 25, 2015 |
| 11 | | | May 25, 2017 |