Ad blocker interference detected!
Wikia is a free-to-use site that makes money from advertising. We have a modified experience for viewers using ad blockers

Wikia is not accessible if you've made further modifications. Remove the custom ad blocker rule(s) and the page will load as expected.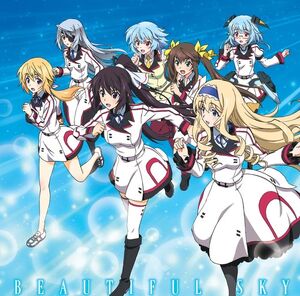 Beautiful Sky is the ending theme of Infinite Stratos 2. This was sung by Yoko Hikasa (日笠陽子), Yukana (ゆかな), Asami Shimoda (下田麻美), Kana Hanazawa (花澤香菜), Marina Inoue (井上麻里奈) and was sung by Hikasa alone in the single. This was introduced in the first episode of Infinite Stratos 2.
Tracklist
Edit
Saori Kodama wrote the lyrics and the melody and arrangement was done by Akihiko Yamaguchi. The single released on November 20, 2013 with the number LALM-4004. The coupling song is Super∞Stream (Tatenashi Sarashiki and Kanzashi Sarashiki ver.)
Beautiful Sky
Super∞Stream (Tatenashi Sarashiki and Kanzashi Sarashiki ver.)
Beautiful Sky(off vocal)
Characters (By Order of Appearance)Edit
takaku motto BEAUTIFUL SKY
sukitōru manazashi e
mamoritai kagayaki ga kyou mo
chikara ni naru yo

naranda kaze ni kimi o kanjiru
sonzai ga ureshii
shinkokyū shite miageru sora wa
mainichi chigau kao nanda

doko made mo ikeru ne
egaiteku koko kara
kinou yori tsuyoi jibun de itai
itsu demo

takaku motto BEAUTIFUL SKY
sukitōru manazashi ni
kono shunkan o yakitsukete iku
hikare motto BEAUTIFUL SKY
tsubasagoto dakishimete
mamoritai kagayaki ga kyou mo
chikara o kureru

kitto otagai sono yokogao o
tegakari ni shiteru ne
hitomi no naka no mirai o misete
mae ni dake nobite yuku michi

sono yume o shinjiru
tamerawanai kimeta no
kasanaru omoi kimi no yūki ni naretara
dakara kyou ga PRECIOUS MEMORIES
owaranai mabushisa e
tobikonda ano toki kara zutto
sasaeatte PRECIOUS MEMORIES
nukumori ga koko ni aru
somatteku kankeichi chanto
uketometai yo

atarashii sora nobashita kiseki tōku made
kimi no senaka o miushinawanai
zettai

takaku motto BEAUTIFUL SKY
sukitōru manazashi ni
kono shunkan o yakitsukete iku
hikare motto BEAUTIFUL SKY
tsubasagoto dakishimete
mamoritai kagayaki ga kyou mo
chikara o kureru
TREASURE DAYS

koko ni shikanai
kizuna ga aru ne
高くもっと! BEAUTIFUL SKY 透き通る眼差しへ
守りたい輝きが今日もチカラになるよ

並んだ風にキミを感じる 存在がうれしい
深呼吸して見上げる空は 毎日違う顔なんだ

どこまでも行けるね 描いてくここから
昨日より強い自分でいたい いつでも

高くもっと! BEAUTIFUL SKY 透き通る眼差しへ
この瞬間を焼きつけていく
光れもっと! BEAUTIFUL SKY 翼ごと抱きしめて
守りたい輝きが今日もチカラになるよ

きっとお互いその横顔を 手がかりしてるね
瞳の中の未来を見せて 前にだけ伸びていく道

その夢を信じる 躊躇わない決めたの
かさなるオモイ キミの勇気になれたから

だから今日が PRECIOUS MEMORIES 終わらない眩しさへ
飛び込んだあの時からずっと
支えあって PRECIOUS MEMORIES 温もりがここにある
染まってく関係値 ちゃんと 受け止めたいよ

新しい空 伸ばした奇跡 遠くまで
君の背中を 見失わない
絶対

高くもっと! BEAUTIFUL SKY 透き通る眼差しへ
この瞬間を焼きつけていく
光れもっと! BEAUTIFUL SKY 翼ごと抱きしめて
守りたい輝きが今日もチカラになるよ

ここにしかないキズナがあるね